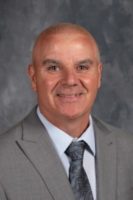 The Board of Education for the Fort Calhoun public schools has negotiated and have come to a verbal agreement with Mr. Jerry Green for the position of Superintendent of Schools. Mr. Green has been the secondary principal at Fort Calhoun for the last 10 years. Mr Green has been in the Fort Calhoun School District since 1994 and was previously a teacher, coach, and an AD/assistant principal for our district. He received his BS in Education from Dana College, his Masters of Education from UNO and his Education Specialist degree from Doane University.
The Superintendent interview process included meetings with groups from the Community, Staff and Administration, in addition to a facilities tour and a formal interview with the Board. The Board wishes to thank the interview groups for their time invested in the process and their valuable input. We look forward to the future here at Fort Calhoun Community Schools.
The Fort Calhoun Board of Education will ratify Mr. Green's superintendent contract at an upcoming school board meeting and his agreement will commence on July, 1st 2020.
Jon Genoways – Board President On Behalf of the Fort Calhoun Board of Education