School Improvement Plan
=========================================================================================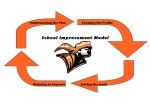 (Click on photo to enlarge)
Our Mission Statement:
        The mission of the Fort Calhoun Community Schools is to foster learning in an inspiring and caring environment, provide opportunities for all students to be successful, instill the attributes of respect and responsibility among staff and students alike, and present students with the tools to succeed in life.
Junior/Senior High School Purpose:
INSPIRING……COURAGE, CHARACTER, and COMMITMENT.
Elementary School Purpose:
Engaging + Learning+ Achieving = Productive PIONEERS!
School Improvement Goals:
To improve student skills in math.
To implement the Marzano Instructional Model district wide
What is AdvancED?
AdvancED is the process based on a performance model that employs diagnostic tools for schools to conduct internal reviews focused on evaluating performances related to standards and indicators, student performance results, and stakeholder feedback results. The accreditation process is also known in terms of its ability to effectively drive student performance and continuous improvement in education.
Why Does Accreditation Matter?
Accreditation is designed to help educational institutions boost their ongoing performance efforts for the benefit of their students.  AdvancED insists on a relentless pursuit of excellence – for itself and for the institutions it accredits. This ethic of excellence ensures that institutions will find rich benefits from accreditation and that parents can confidently make informed decisions about their children's education, knowing their child's school is accredited. Accreditation matters because our students deserve the highest level of educational excellence possible.
*Click the icon below for more information on Accreditation