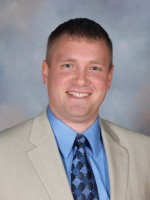 Welcome to Fort Calhoun Elementary!
As we know, the road to success is not easy, but when you set your expectations high and equip the students with the proper tools, the things they achieve are unimaginable. In addition to this, providing children with a safe learning environment is essential to their educational growth. Therefore, the three combined, high expectations, well-rounded education, and safety, provide the students with the tools to be successful.
The experience you have at Fort Calhoun is extra ordinary. This experience happens when you walk in the hallways to when you enter the classroom. A safe learning environment coincides with our belief in every student can succeed is what we are all about. Our state scores reflect our dedication and commitment to excellence. We will continue to inspire and instill our students the tools for success.
Fort Calhoun is a little town with a big heart. Our students are always well engaged and ready for the future. The staff, students, and community are second to none!
If you have any questions, please feel free to call (402) 468-5714. It is a great day to be a PIONEER!
DO SOMETHING POSITIVE!
Drew R. Wagner
PJ Mallette, Interim Principal
OUR PURPOSE: Engaging + Learning + Achieving =Productive PIONEERS!
---
Please click on the link below for my transparent philosophy in education. Thank you for viewing!