2014-15 Pioneer Football
"Purpose, Pride, and Passion"
Coaching Philosophy
            Teach players the necessary tools needed in life to be successful through the game of football.  As coaches, we will use passion, love, and our own personal experience to help every member of the program improve as student athletes.  It is our purpose to develop pride and work ethic, while promoting a friendly and safe environment where we will all work together to succeed as one team, one family, one school. 
2014 Recap:
The 2014 football season was an exciting season for the players, coaches, parents, and community.  The Pioneers finished the season 6-3 and earned a 13 seed into the C1 Nebraska State Playoffs.  The 2014 seniors finished their high school careers as the only class to play in the playoffs 4 years in a row.  We are hoping to keep that streak alive as the Pioneers are working very hard in the off-season to prepare themselves for the upcoming season.  Thanks to everyone that make our program run on all cylinders.  We couldn't do it without the help from so many great people behind the scenes. 
News Feed:
Golf Tournament Brochure available at "Gridiron Golf Tournament."  Tell you friends and family!!!

Summer Dates are available- See "Summer Information."
2014 Fort Calhoun Football Poster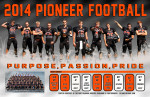 Great Community…Great Support!