Fort Calhoun Student Council
The Fort Calhoun High School Student Council is comprised of students, elected by their peers to represent and lead their class in school matters. The freshman through senior classes are represented in Student Council by the President of the class and a male and female student council representative.
The Fort Calhoun Student Council initiates projects that benefit the students at the High School such as providing microwaves for students at lunch time, reviewing new handbook rules, providing a light for the flags at the Elementary and Junior-Senior High School buildings.
Philanthropic projects are an important part of Student Council. The projects that have been and are currently staffed by Student Council are: Adopt-a-Highway on Highway 75 south of Fort Calhoun, initiating the school-wide recycling program, helping with the Mr. Calhoun pageant for Post-Prom.
Student Council members are also involved with Homecoming and Honors Night. The members paint faces at the Elementary School before the Homecoming parade. Honors Night is an end-of-the-year event that celebrates the academic successes of Fort Calhoun students. Student Council members decorate the high school gym for this event and emcee the program.
2023-2024 Election Results
Class Officers & Student Council Representatives
(All names listed are members of Student Council)
FRESHMEN
Mason Reichert – President
Aiden Tinkham – Vice President
Connor Holmstedt – Secretary
Jason Jensen – Treasurer
Emily Warfield – Student Council
Raeann Massey – Student Council
SOPHOMORES
Izzy Greenough – President
Taylor Douchey – Vice President
Stella Wilmes – Secretary
Ali Dill – Treasurer
Macie Collins – Student Council
Sophie Weeks – Student Council
JUNIORS
Andrew Namuth – President
Anna Taylor – Vice President
Kaylee Taylor – Secretary
Wayne King – Treasurer
Alexander Schuler – Student Council
Allison Prunty – Student Council
SENIORS
Ethan Dye – President
Brooke Johnsen – Vice President
Abbey Lienemann – Secretary
Madison Buczkowski – Treasurer
Eddie Lautrup – Student Council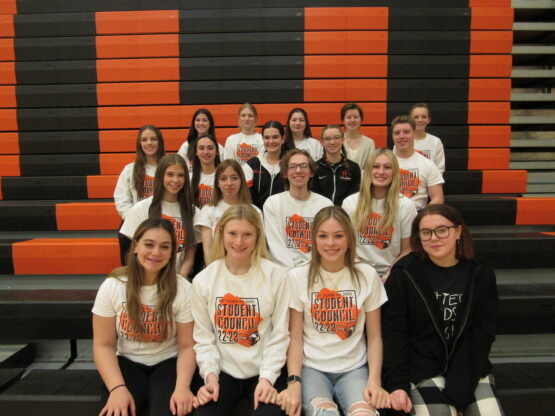 Student Council 2022-2023