2017 Pioneer Football
"Purpose, Pride, and Passion"
Coaching Philosophy
            Teach players the necessary tools needed in life to be successful through the game of football.  As coaches, we will use passion, love, and our own personal experience to help every member of the program improve as student athletes.  It is our purpose to develop pride and work ethic, while promoting a friendly and safe environment where we will all work together to succeed as one team, one family, one school. 
2017 Fort Calhoun Pioneers

 
2017 Senior Poster/Schedule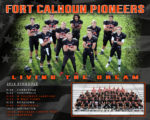 Great Community…Great Support!