College Sociology class has had a busy semester. They have done several community service projects. One group has collected items for foster care kids, another has rang bells for Salvation army and will be serving food at a homeless shelter and another has done some recycling at the recycle center in Blair. Jordan Schaefer had this to say about her experience ringing bells. "Other than it being pretty cold one of the days, it was really fun. Getting to see everyone that supports the Salvation Army and gives money was really nice. Even getting to see people smiling as our group sang songs was great. A lot of people would come up and sing with us. It was also really great to see all of the little kids that would bring money and put it in the bucket. There were a lot more than I had expected." Thank you students for your service to the community.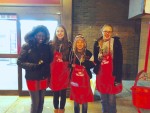 Nyaliet Teng, Jordan Schaefer, Montana Cottle and Rachel Schumaker rang bells for the Salvation Army.
Jordan Coulter, Tessa Dethlefs, Hanna Lazure, and Lauren Nelson Collected different items for foster kids.